We understand that when you see a random Luxury sports car or a Built 4×4 on your Facebook timeline its odd. Especially when you're being told you can win it. Naturally you ask yourself, is this real? The answer is YES!! It is real!
We really do give away cars to our members and all you have to do to win, is sign-up and you'll be automatically entered into the draw of your choice. We understand its hard to believe sometimes, and maybe that's why your here now. To do your due diligence and find out for yourself. If that's the case. Sit back, click on a video and see fist hand what its like to win a car from Motor Culture Australia.
Butterfly Tub Hilux - VIP Only Draw
On the 3rd of September 2021, Our first ever P-Plate winner received the call of a lifetime. At just 19 years of age, Jack Scott from Gladstone (QLD) took out first place in our Butterfly-tub Hilux draw. With only 150kms on the clock and $50,000 worth of modifications including the 2nd Butterfly tub in Australia, it's safe to say that Jack's $39.99 Monthly VIP Membership turned out to be a great investment.
The Hilux made it up to Jack on the 14th of September, only 9 days after receiving the call. Having picked up the car and fitted it with some personalised plates, Jack officially became Australia's coolest 19 year old with a 4×4. Checkout his Instagram page: @scotts_butterfly_lux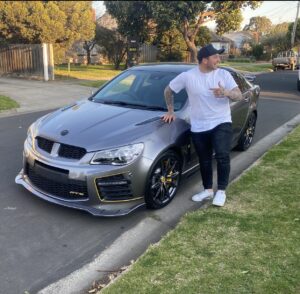 On the 22nd of August 2021, James Royle from Melbourne won first prize and took home one of the nations cleanest and meanest HSV's. The GTS is fitted with a stage 3 Harrop build and has less than 3'000km's on the clock.  And don't get me started on that 6.2L supercharged scream from the exhaust. 
Within 2 weeks the car was at James' doorstep. And shortly after it was out on the road getting to know its new owner. James's has been a customer of Motor Culture since the start of 2021 and in this instance, his $400 investment in a Diamond Membership quickly turned into a $150,000 car. 
This basically brand new, modified HSV was one of our favourites here at MCA and we are very glad to see it go to a winner who will take good care of it. 
This was one of Tom's favourite cars and a sad one to send off to our winner Chris Hilbert from Melbourne, Victoria. Getting the Golf down to Victoria at the time was a logistical challenge as the state was locked down pretty tight but we managed to get it to Chris within 3 weeks.  His new Stage 3 Golf was propelling him to 100kmh in under 3 seconds and flying past V8's with ease. 
Chris started his journey as a Member in October 2020. And has been a loyal customer since. Chris was participating in the occasional draw until the 8th of July 2021 when he became a Mini VIP Member. And in this case. The VIP Membership was the best $19.99 per month Chris could have ever spent. 
Watch all the Winner's Delivery Videos
Full list of past winners
We live stream every one of our draws on our Facebook page. If you missed a live draw, you can re-watch them at anytime on our Facebook page!